Ein Link zu meiner facebook - Seite

Die Euro Heliserie 1. Wettbewerb in Germany
Der neue TREX 700 XN
Eine Ehrung durch den LVB im Januar 2018 für meine Erfolge 2017.
DANKE!
03.11.2017
Some impressions of today's ceremony.
What a honor to be one of the athlets who got this award.
Congratulations to all other athlets and all the best in the future
______________________________________________________________________________
Sieg mit der deutschen Mannschaft F3N bei der WM 2017 in der Mannschaftswertungund für mich den 2 Platz F3N (Senioren) mit Kenny Ko (Platz 1) und Jaimie Robertson (Platz 3)
---------------------------------------------------------------------------------------------------------------
Nach dem Sieg (F3N) bei der Weltmeisterschaft in Wloclawek, Polen und


nach dem Sieg der WM 2015 (F3N) am Klopeiner See.
Nach dem Sieg F3N bei den World Air Games 2015 in Dubai mit Kenny Ko (2.) und Luca Pescante (3.)
Nach dem Sieg F3N bei der Europameisterschaft 2016 in Wloclawek / Polen

mit Luca Pescante (2) und Duncan Osbourn (3)
Mein Fluggerät ab 2016:


Heli
T-REX 700L Dominator
Regler
COOL KOSMIK 200+ HV
Motor
KONTRONIK PYRO 750 COMPETITION
Flybarless
Microbeast Plus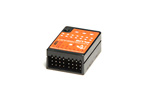 Hauptrotorblätter XBLADES x693 FBL

Heckrotorblätter DH107
Fernsteuerung Futaba T18MZ
Servos Taumelscheibe Futaba BLS 275SV
Servo Heck Futaba BLS 276SV
Empfänger Futaba R7008SB
Akku
2x 6s Optipower 5800 mAh
(50/100C)
Stütz-Akku
Optipower Ultra Guard 430
EM F3N 2016 in Polen / Wloclawek

Back at home from European Champion Ship in Poland.
It was such a great time with so many fun moments, congratualtions to Luca Pescante, Duncan Osborn and the whole german team :-)
The ogranisation was great, thanks to Marek and the entire team for the effort and work to make this event possible.
I want to say thank you to my Sponsors for their continuously great support, my dad for being my caller, who spends so many hours with my at the field :-).
Furthermore to my girlfriend familiy and friends :-)
It was really nice to see some new young, ambitious pilots from several countries, congrats to all joniour pilots for the great results.

WM F3N 2015 in Österreich am Klopeiner See

Ich freue mich über meinen erneuten Sieg bei der Weltmeisterschaft F3N 2015.


Vielen Dank an alle (siehe oben) die diesen Erfolg möglich gemacht haben.


WM F3N 2013 in Polen
The World-Champion-Ship in poland was a huge success for me and the national team of germany. 1st place and also 1st place in the teamcompetition. It was a great week and we had lot of fun. Congrats also to Luca Pescante and Kenny Ko. Thanks to the orgateam for this great competition. Thanks also to Tobias Kern and my father Klaus Weber for spending so much time with me at the airfield . I will also give a big thanks to Uwe Caspart for the job as teammanager. Thanks to my sponsors for the support and trust in me. Hope everyone had a save trip home. See you. . .
Besucher: